Attorney Oumou Keita Awarded the Arizona Justice Project's Larry Hammond Justice Fellowship
A Position Funded by the Lodestar Foundation
The late Larry Hammond, along with the Arizona Attorneys for Criminal Justice, founded the nonprofit Arizona Justice Project in 1998. The Arizona Justice Project was the fifth innocence organization formed in the country with a mission to correct wrongful convictions. In 2003, Larry also helped found the Innocence Network, a coalition of independent innocence organizations dedicated to this same mission. Today, there are over 70 projects worldwide.
While the Arizona Justice Project focuses on identifying and representing innocent people in Arizona prisons, Larry, and the attorneys involved in this formation, sought to expand the Arizona Justice Project's reach by also representing those in Arizona prisons who have suffered a manifest injustice.
For 25 years, Arizona Justice Project staff, volunteer lawyers, law and undergraduate students, investigators, social workers, and others have helped free 43 individuals from incarceration – all under the supervision and guidance of Larry Hammond. Larry had his own law practice at Osborn Maledon yet he still made the time to start this important program in Arizona, to serve as its President for 23 years, and to provide guidance and assistance no matter how big or small. Larry's passion to correct injustices – and to stand with the marginalized – was unwavering. This type of advocacy is woven into every fabric of the Arizona Justice Project to this day.
First-ever Larry Hammond Justice Fellow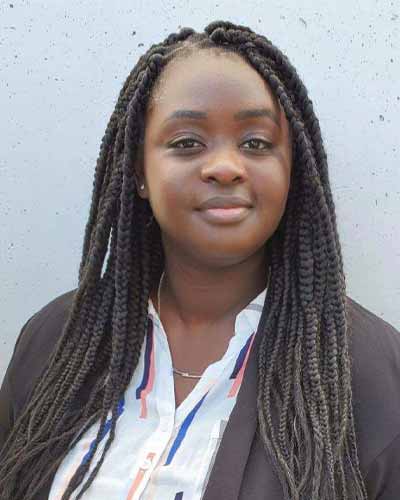 We are extremely grateful to the Lodestar Foundation for its support of the Arizona Justice Project in the form of a grant that will fund the first ever Larry Hammond Justice Fellow. It is an honor for all of us at the Arizona Justice Project and at the Lodestar Foundation to honor Larry's legacy. And we are extremely honored to award this position to Oumou Keita.
Oumou Keita is a graduate of the Sandra Day O'Connor College of Law at Arizona State University. Through her experience working with the Arizona Court of Appeals, the Maricopa County Public Defender's Office, the Federal Public Defender's Office, and as a former intern for the Arizona Justice Project, Oumou has demonstrated a passion for correcting injustices in the system. She represents everything Larry Hammond envisioned when he started the Arizona Justice Project.
As the Larry Hammond Justice Fellow, Oumou will assist the Project in the identification and representation of the wrongfully convicted and imprisoned in Arizona as well as assist in efforts to improve the criminal justice system at the legislature and in the community.
The Arizona Justice Project is a 501(c)(3) nonprofit organization dedicated to identifying and representing wrongfully convicted individuals, and those who have suffered a manifest injustice, in Arizona.
For more information, contact Katie Puzauskas, Communications and Legal Strategy Coordinator, [email protected], 602-844-1220