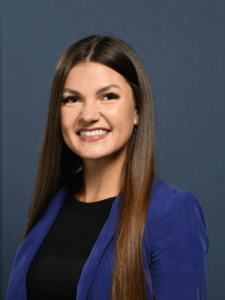 Brielle Schumpe is a third-year law student at Sandra Day O'Connor College of Law. Throughout law school, she has fully committed herself to criminal defense. Outside the classroom, she has actively sought out opportunities to gain practical experience. This included a 3 semester externship with the Arizona Justice Project where she reviewed cases and identified ways to assist the wrongfully imprisoned. 
Brielle is currently a Rule 39 certified limited practice student with the Maricopa County Office of the Public Defender. This allows her to represent indigent clients under the supervision of a licensed attorney. She is committed to ensuring that every individual, regardless of their background, receives a fair trial and adequate defense. 
Brielle's commitment to her chosen path is fueled by a desire for justice reform. She firmly believes in addressing systemic inequalities within the justice system and is an advocate for alternatives to incarceration, striving for rehabilitation over punishment. 
Legal Intern AZJusticeProject & Maricopa County Practice Public Defender | Date taking office: N/A