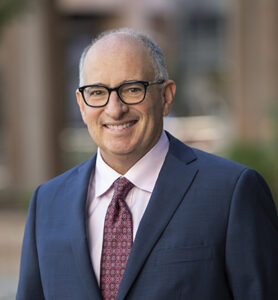 Lee Stein, a former Assistant U.S. Attorney and Special Assistant Attorney General in the Arizona Attorney General's Office, has nearly 25 years of experience representing clients in white collar prosecutions and government investigations. He also was a partner at Perkins Coie, LLP, where he co-chaired the firm's national Investigations and White Collar Defense practice group.
Lee is an accomplished trial lawyer who represents Fortune 500 companies and individuals in sensitive internal investigations and criminal prosecutions in both federal and state courts. Lee has seen nearly every imaginable white collar issue, including SEC investigations, environmental and wildlife prosecutions, fraud cases and public corruption matters. An area of emphasis for Lee over the last 5 years has been advising clients on compliance with the Foreign Corrupt Practices Act. He has handled FCPA investigations all over the world and has resolved those matters when necessary with the Department of Justice and the Securities and Exchange Commission.
Lee is a frequent speaker on white collar issues. He has trained corporate investigators on conducting internal investigations, appeared on panels on the FCPA and other white collar issues, and spoken to in-house counsel on ethical issues in internal investigations. He has also taught classes at the University of Arizona and Arizona State University law schools on corporate criminal issues and the lawyering process. Lee graduated magna cum laude from the Sandra Day O'Connor College of Law at Arizona State University, where he was elected to the Order of the Coif and served as Editor-in- Chief of the Law Review. Following his law school graduation, Lee served as a law clerk to Arizona Supreme Court Justice James Moeller.