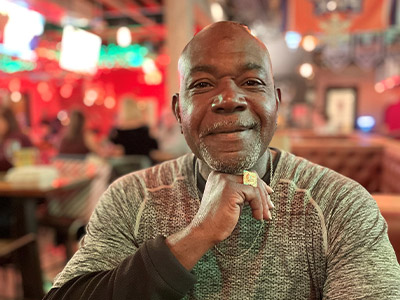 Sentenced to spend the next 50 years of his life in prison for possessing $20 of crack cocaine
This is one of the most egregious sentences the Project has ever seen.
In 1990, at the age of 26, Louis Harper was convicted of possessing a small amount of crack cocaine and selling one $20 rock to undercover officers in the Phoenix area. The presentence investigator recommended that Louis be committed to the Arizona Department of Corrections for the presumptive term of 15.75 years for both counts and he recommended that the sentences be served concurrently. Despite that recommendation and without hesitation, however, a pro tem judge sentenced Louis to spend the next 50 years of his life in prison. Had this been a federal offense, the most time Louis could have received was 51 months.
After serving 17 years, Louis was paroled from his first 25 year sentence and, in fall 2008, he applied to the Arizona Justice Project for help. The Arizona Justice Project accepted Louis's case and assigned a team of volunteers to brainstorm ways for Louis to obtain relief from one of the most egregious sentences the Project had ever seen.
Several dedicated law students and attorneys looked at all avenues clemency, a change in the law, legislation. The team learned that clemency wasn't available until Louis had served 2/3 of his sentence and there was no change in the law that applied retroactively to Louis.
Months and then years went by until attorneys for the Arizona Justice Project began to communicate with the prosecutors in Louis's case. His case was ultimately resolved without having to litigate and, after serving nearly 22 years in prison, Louis's convictions were vacated. He entered into a plea agreement to 25 years (time served) and he was released on probation.