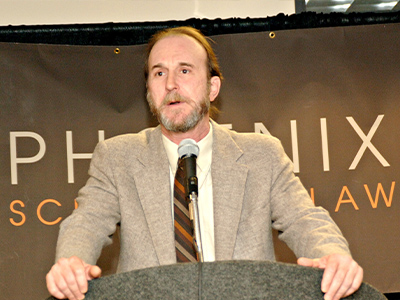 Sentenced to death for a crime he didn't commit.
Convicted Of First Degree Murder
The Arizona Justice Project did not represent Ray Krone in post-conviction proceedings. However, the Arizona Justice Project was involved in a post-mortem analysis of Ray Krone's case to determine what went wrong. The Arizona Justice Project uses post-mortem analysis to educate law students and lawyers about the causes of wrongful conviction.
What went wrong: A post-mortem
The goal of a post-mortem analysis is to try to learn and pass on the lessons of such a tragic case. We have identified several areas for further investigation that we will discuss here briefly. In reviewing these facts that, in retrospect, could have led police more quickly to the actual killer, we reflect on some of the many missed clues and dropped leads, and try to better understand why they occurred.
A common theme in this case is what has been called target fixation – investigators who begin to focus on a particular suspect tend to view the emerging evidence in light of that suspicion. Seemingly innocent facts come to take on a sinister light, while potentially exculpatory facts are discounted as irrelevant, or are too quickly explained away. For example, a critical lead was dropped by police. The day of Kim's murder, police were stationed outside to protect the crime scene. That night Officer Kurtenbach was on duty to guard the area. As he stood guard, an unknown white male, wearing a hooded sweatshirt, approached the crime scene near the adjacent shoe store. As he neared, the man stopped, attracted the attention of Officer Kurtenbach, dropped an envelope on the ground, and ran away from the scene. Kurtenbach did not touch the envelope; he immediately contacted his superior at the scene, Sgt. Givens, who opened the note. Sgt. Givens then passed the note to Detective Gregory. The note gave police a description of the murder who had been lurking behind the bar the night of the murder. Undoubtedly, police receive a lot of false leads from notes such as this. But the circumstances of the delivery of this note were such that most of you would probably agree it should have been taken very seriously. At the least, police might have canvassed the area to search for the author.
Had they searched the area, investigators would have discovered the back door of the CBS Lounge is visible from only a handful of apartments directly behind the bar.
Had they checked those apartments, they might have found the author of the mysterious note, Robert Fredrickson, who lived right there.
Had they interviewed Mr. Fredrickson, police presumably would have learned that what Mr. Fredrickson saw that night that was so important for him to risk his own arrest in coming forward to notify police, was a murderer stalking his prey at or near the time of the killing.
Had they followed up on leads to a possible American Indian suspect, they would have found potentially significant the following facts:

a report that, on the night that she was killed, Kim Ancona had cut off a Native American customer who left intoxicated
a report that another bar customer saw an Indian male at the CBS Lounge at the time of closing
a hair found at the crime scene was American Indian in origin and that the police crime lab viewed as irrelevant and did not analyze.
Yet, it appears that this note played no significant role in the police investigation of Kim's murder. It was put in a desk drawer and not impounded into evidence until weeks later. Perhaps police believed they already had their man – and would not allow themselves to be led astray by evidence pointing to a different suspect.
Seventeen 'single' hairs were found on Kim Ancona's body. They were labeled A through Q. Dr. Scott Piette, the state criminologist, observed that the head and pubic hairs of Kim and Krone appeared indistinguishable. Thus, Ray Krone could not be eliminated as a donor of these hairs. However, two hairs, N and O, were later discovered to be dissimilar to both Krone's and Kim's hair, and therefore signaled the presence of someone else at the crime scene. Hair Q was never tested and it was finally revealed as being American Indian in origin. The most striking thing about this hair Q – was its location. All the other hairs found on Kim were found on her back and torso, making it possible that the hairs were picked up off the restroom floor. Hair Q, however, was discovered among the mass of congealed blood in Ancona's left buttock crease.
You would be hard pressed to find an expert at any price who would conclude that a hair in such a position could be unrelated to the murder. And yet, either because of inexperience, poor supervision, and bad-luck coincidence — or because this hair obviously did not "fit" the emerging evidence pointing falsely to Ray Krone's guilt – the Phoenix police lab simply failed to analyze this hair. Again, the evidence pointing to the real killer was available from the start.
The most obvious errors in this case came from reliance on what you might call "junk science" – the controversial field of forensic odontology or bite-mark science. This case makes clear that juries place tremendous – and sometimes unwarranted – weight on so-called scientific evidence. There is no substitute for a persuasive expert, and there is no substitute for the critical role that judges must play as the gatekeepers to preclude junk science from getting to the jury. To this day, bite-mark science has still not been subjected to the sort of rigorous peer review and testing that is expected of other forensic sciences. We could all use a healthy dose of skepticism when relying on so-called science as the basis of proof beyond a reasonable doubt – especially in a case of life and death.
The Ray Krone case is a reminder to us all just how much hangs in the balance of our criminal justice system, and just how easily so many well-meaning people can simply get it wrong. In a sense, Krone was lucky – there was enough DNA evidence remaining from the crime scene that he eventually could be exonerated thanks to advances in DNA technology. Who knows how many other innocent men and women still remain behind bars because they are not equally fortunate in their ability to prove their innocence. In another sense, of course, Ray Krone is an American tragedy, a man who lost over ten years of his life to jail and prison. Those of us who care about the criminal justice system owe it to people like Ray Krone to study, learn and disseminate the lessons of his wrongful conviction in the hopes that this will never happen again.